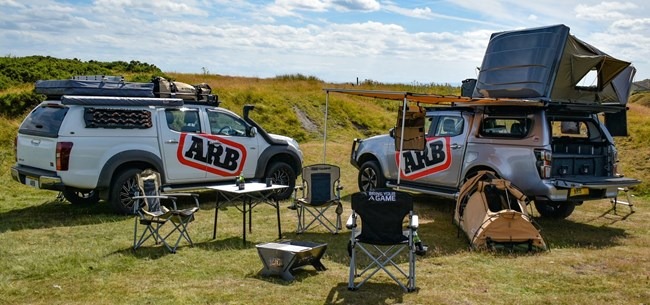 Now available at Fussell Wadman - The Isuzu approved ARB accessories for D-Max.
Isuzu has approved a range of accessories from ARB UK for its D-Max pick-up truck.
The accessories featured on the 4x4 division of Truckman includes:
> A drawer system with slide-out kitchens
> Rooftop tents, awnings and other camping gear
> Roof racks
> Recovery equipment
> Canopies
All of these accessories will be available from your local Isuzu dealer, Fussell Wadman.
ARB UK commercial director Matthew McConaghy said:
"This exciting partnership between Isuzu and ARB will allow Isuzu D-Max owners to fully customise their vehicle to suit their needs – whether off-roading or outdoor adventurers."
The Isuzu UK accessory sales and marketing coordinator Steve Page has said:
"We are excited to partner with ARB UK and provide our customers with a comprehensive range of accessories that will enable them to customise their Isuzu D-Max according to their specific requirements. This partnership allows us to offer a vehicle that can suit any need, whether it's for work, adventure or lifestyle."
"Isuzu is committed to providing its customers with the best possible products and services, and this partnership with ARB is just one example of that commitment."
"With a range of approved accessories now available, Isuzu D-Max owners can look forward to even greater versatility and functionality from their vehicles."
For more information, call Martyn on 01380 731986 or email martyn@fussellwadman.co.uk
Latest News